Scroll to see more content...
Royal-Offbeat Destination Wedding Venues in Rajasthan
Royal-Offbeat Destination Wedding !
'Jhunjhunu' – the name itself is so crisp and amusing, that you will be curious to dig into its History. On a serious note Jhunjhunu is a district of the Indian state Rajasthan in western India. The town Jhunjhunu is the district headquarters. Jhunjhunu is the only district in India which has contributed maximum number of soldiers in Indian Army. it is itself a record and matter of pride for this small district which has produced brave soldier for Indian Army.
hunjhunu also prides itself in housing some of the most amazing Havelis or Castles of the Shekhawati Period. Many of these castles have a heritage record of more than 100 years, which are renovated and transformed into heritage hotels in the recent past.
Beautiful architecture, high ceilings, these castles are built in a grand scale which reflects the splendor of the past. The expansive paved courtyards with quaint lawns and time aged trees lend it a distinctive character to enchant you in its spell, transporting you to the romance and grand style of the royal era. The castle hotels have all modern amenities like swimming pool. Multi cuisine restaurant, terrace gardens.
Alsisar, Mandawa, Bagar , Surajgarh are the towns in Jhunjhunu District which are a home to these Heritage Castles. These castles could be a wedding venue for a royal-offbeat destination wedding in Rajasthan.
Destination Weddings in Rajasthan are quite popular. Couples are excited to explore the most unexpected these days while planning their wedding. Most couples are going with the choice of OFFBEAT Wedding venues to make their wedding a unique celebration. The castles of Jhunjhunu could be the most amazing wedding venues for a royal-offbeat destination wedding in Rajasthan.
But you could always ask WHY to go for these venues, when you have the best of options in the popular cities of Rajasthan! And we have the best of reasons that would compel you to go for the one amongst these venues. Here you go…
1) Royal Stay Facilities.
These castles are renovated in modern style with all modern amenities like a hotel/resort. Guests could enjoy 5*/4*/3* treatment as per affordability. The modern amenities like swimming pool and spa lounges are available in most of these heritage castles.The architecture and the splendor of its beautifully decorated interiors are just mesmerizing; antique furniture, intricately carved poster beds and medieval delicate Rajasthani motifs on fabric recreates a flavor of luxury living for the guests. The castles are set in the village interiors, so the old Rajasthan welcome customs are followed here as in, welcome with tika and rose water, welcome drink on arrival, special room service facilities. These heritage castle hotels also offer royal Rajasthani buffet food on demand.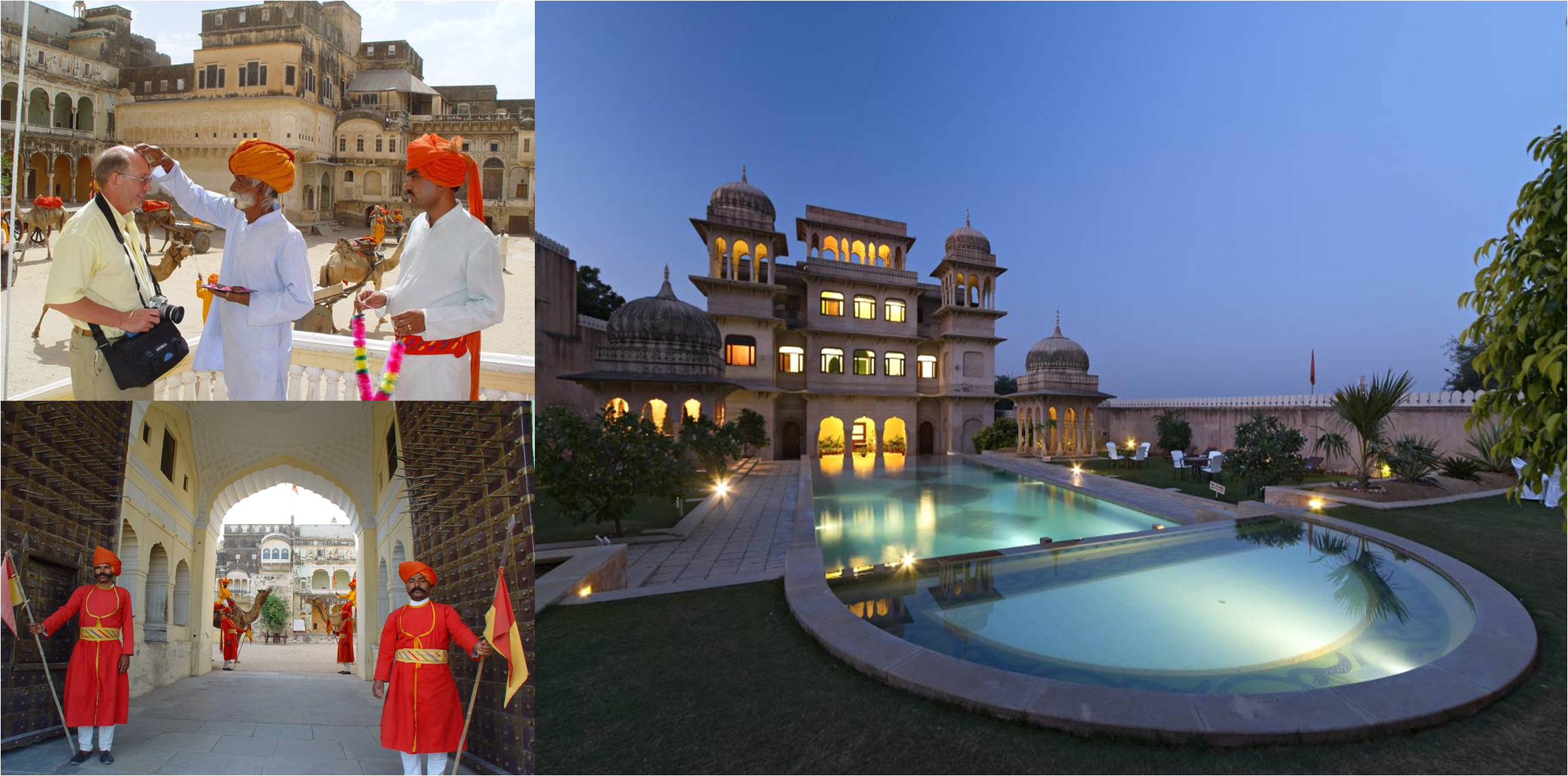 2) Proximity to the Country's Capital
Jhunjhunu is a 5 hour journey by road from the Capital (New Delhi) of India. Couples from New Delhi who are planning a Destination Wedding in Rajasthan could easily access this place if travelling by road. The cities Udaipur & Jodhpur are 8-10 hour journey by road from New Delhi. This district has similar castles as Udaipur & Jodhpur, if planning a destination wedding also the travel time can be saved. The nearest airport is in Jaipur from where regular flights operate to Delhi, Mumbai, Pune and other major cities.
3) Unique Entertainment & Food
Camel safari in the desert and barren areas of Jhunjhunu is quite common. These heritage hotels also organize camel safari for their guests as complimentary or on demand. The wedding Baraaat on a camel with local music and dance can also be organized. Other forms of entertainment like Rajasthani folk dances, music , puppet shows can be easily sourced from the nearby villages. Rajasthani Thali is the most common platter to be served, but these venues also offer Chinese and continental food. Desserts play a major role in every Rajasthani platter. Desserts are taken twice, like before and after a major meal.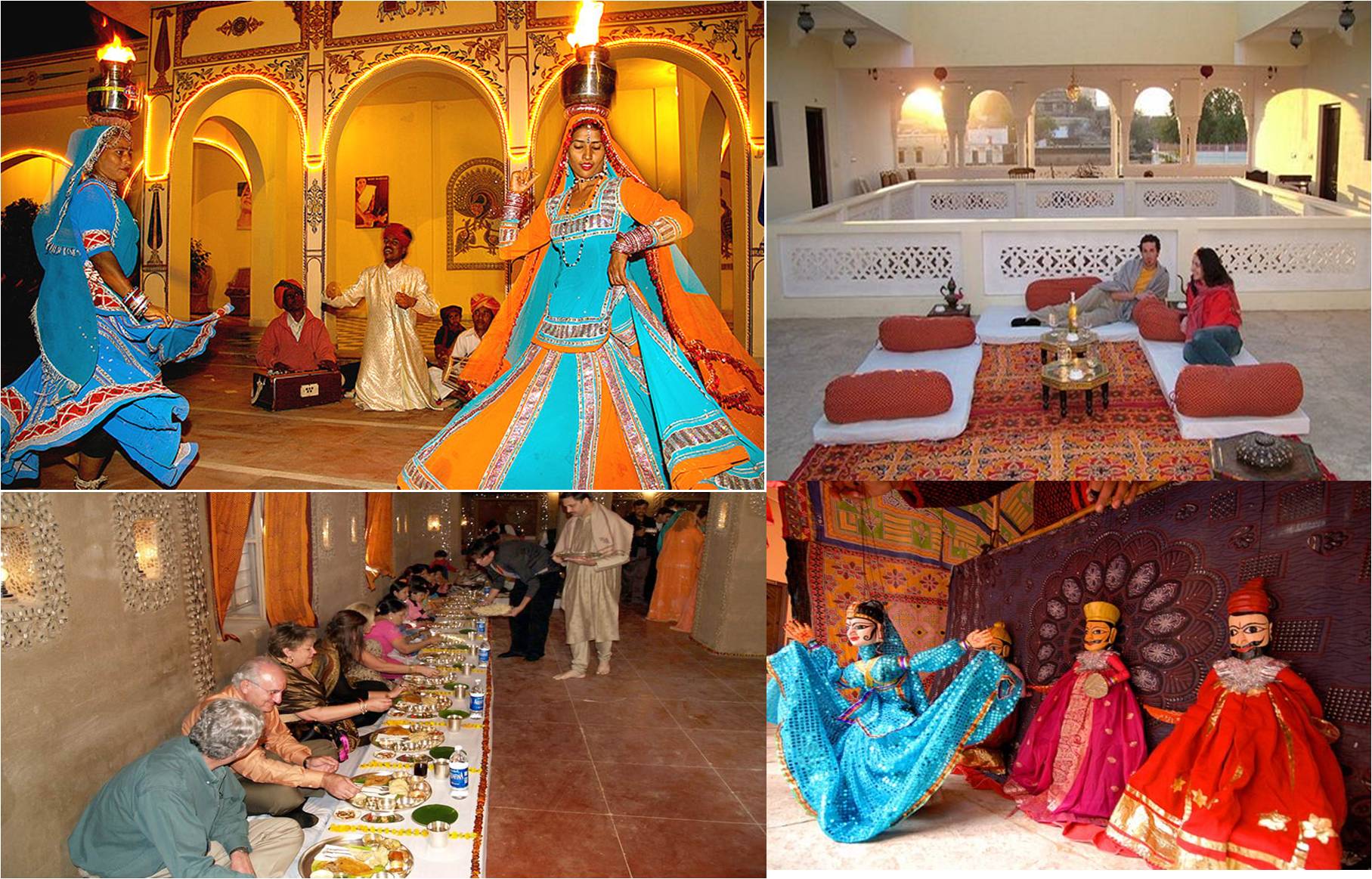 4) OFFBEAT Destination Wedding: A Worthy Experience!
Offbeat Tour! Offbeat Food! Offbeat Entertainment!
Enjoy a village tour with your guests during the non – ceremonial hours. Enjoy camel safari in the desert areas of the district. Add colors to your Mehendi Ceremony with Rajasthani Mehendi artists, Churiwala and beautiful Rajasthani Décor. Rajasthani Folk music, dance, traditional puppet shows, story-telling shows would add a unique glamour to the wedding that would make one forget the DJ & Disco.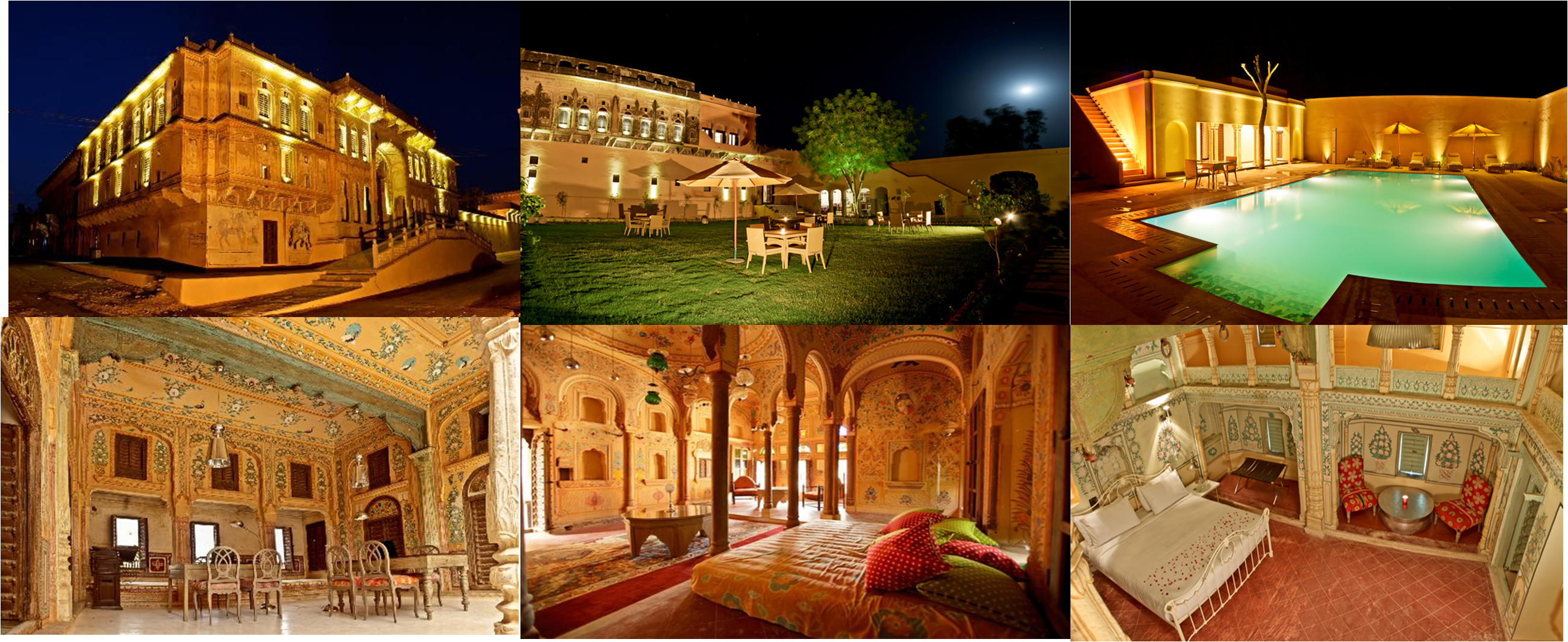 Tip: As these venues are not so popular in hosting destination weddings, they come forward offering special services to their destination wedding clients to prove themselves. There are different types of heritage venues available i.e. 5*/4*/3* according to affordability. Many of these offer complimentary services to their Destination Wedding Clients.
Another Tip: Your wedding planner can help you source special quotes from these Heritage Venues and also take care of other wedding essentials to make yours a Royal-Offbeat Destination Wedding.
Modern couples are experimenting with unique concepts for their wedding. We assume that a special twist can be given to a wedding by choosing an Offbeat Wedding Venue.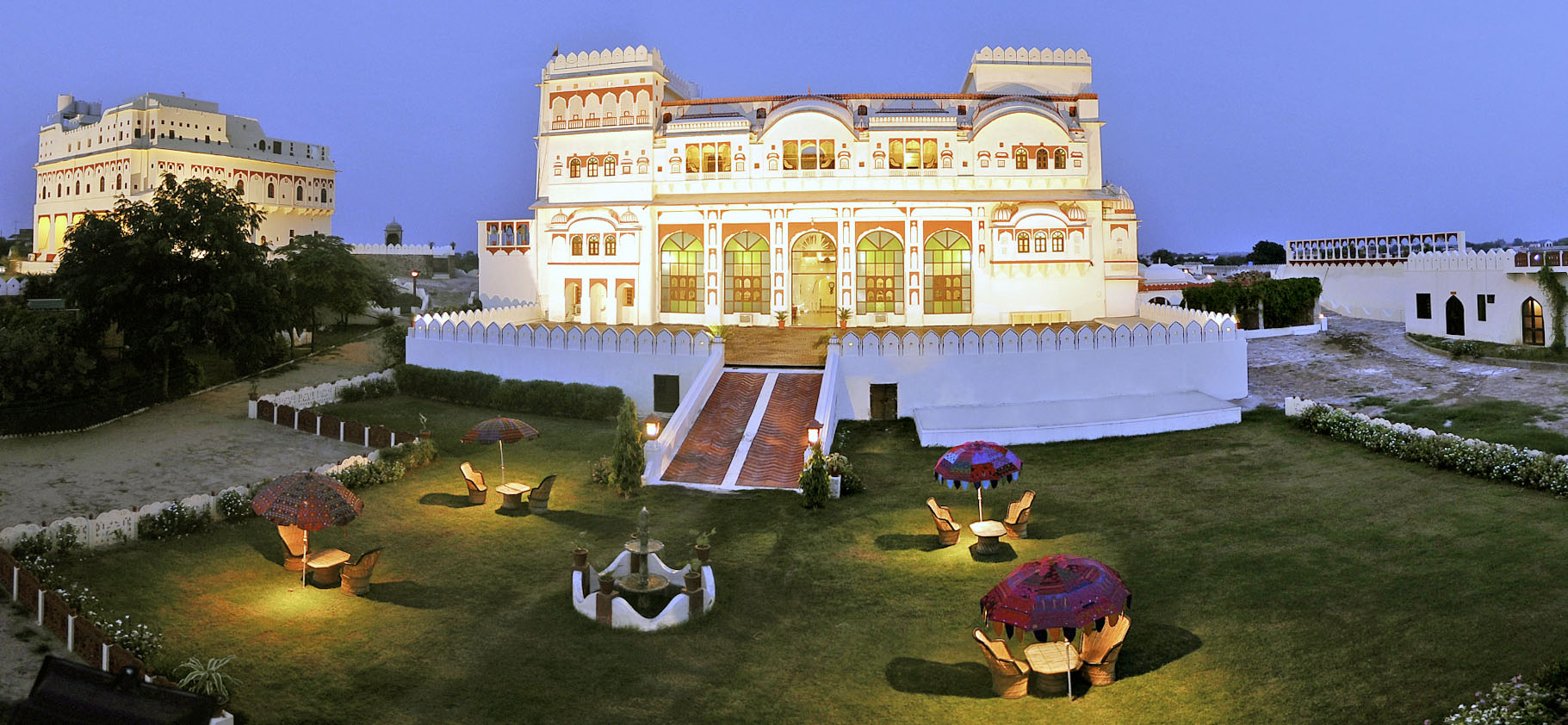 Browse the GALLERY above for Heritage Hotel Images of Jhunjhunu Rajasthan.
Wedding Planner Package including Consultancy + Planning + Coordination @ INR 20000 + Tax (t&c) Read details here
Want to Celebrate a Royal-Offbeat Destination Wedding? Drop a note at diwas.celebrations@gmail.com or fill up the Enquiry Form