Scroll to see more content...
Destination Wedding in Jim Corbett
 Destination Wedding in Jim Corbett : Wedding Venue & Tips
(INR 25L* – The minimum budget required to host a wedding in Jim Corbett with around 100 guests for 2nights – includes stay, F&B, decor for all festivities. This first hand information is for couples who would be interested to know the cost of the wedding. Detailed inforamation is shared below. ) Read on…
The most sought after and talk of town hearsay would be a Destination Wedding in Jim Corbett. A wedding set on the backdrop of the Kosi River surrounded by sprawling greenery, sparkling waterfall and the clamor of wildlife. It could be said like this 'You plan to thrill, when you plan a Destination Wedding in Jim Corbett'.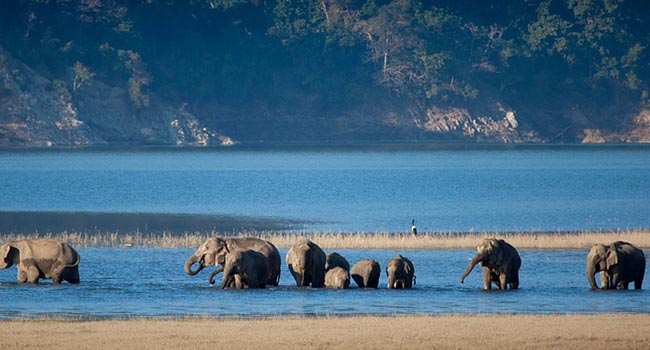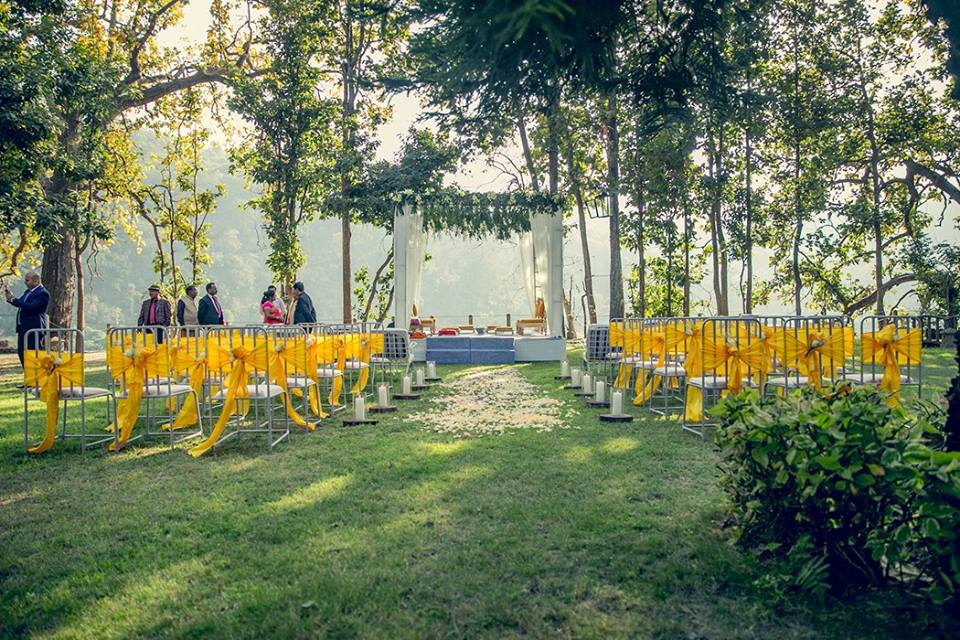 As you read more you get to know about the wedding venues that we recently discovered and that could be your dream venue while you plan a Destination Wedding in Jim Corbett. Also get to know about the other essentials like the F&B, Décor, and Entertainment and how these would work for the Destination Wedding you are looking forward to plan.
Want to know the Budget rightaway? A Destination Wedding in Jim Corbett would cost anywhere between 20-25Lacs and up for 2nights with 100 guests. Seems light on your pocket? Excited to know the details?
Read on…
About Forest Properties
Located on the fringe of Jim Corbett National Park, these 4* properties are spread over lush acres alongside the river Kosi, offering a unique and magnificent view.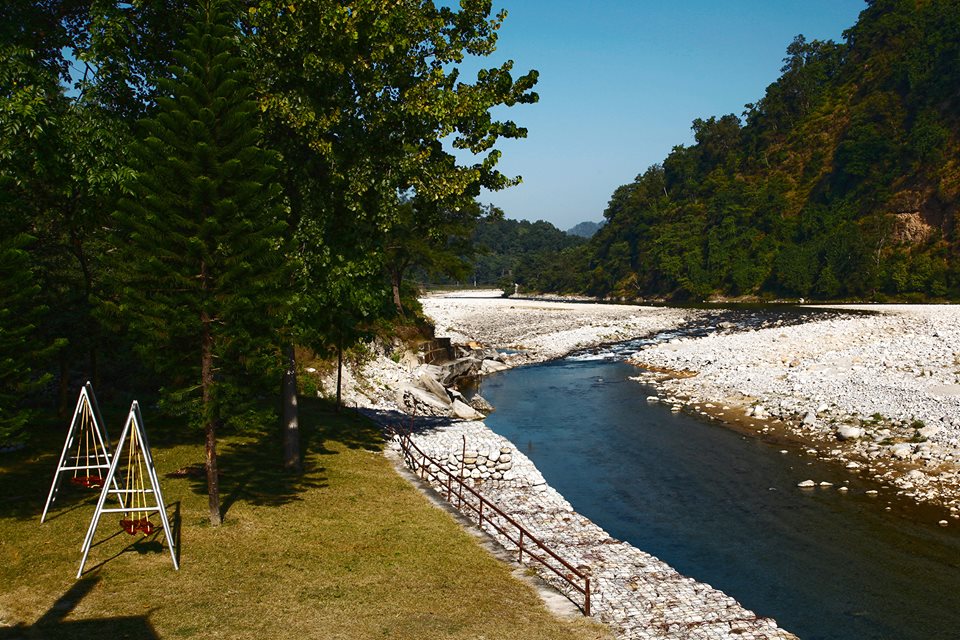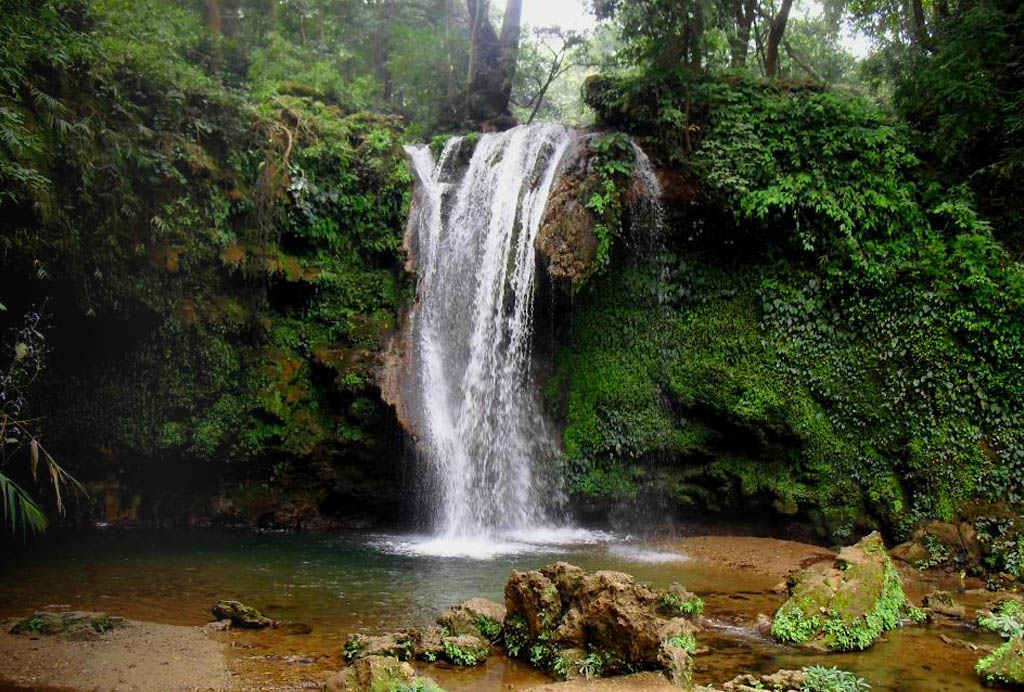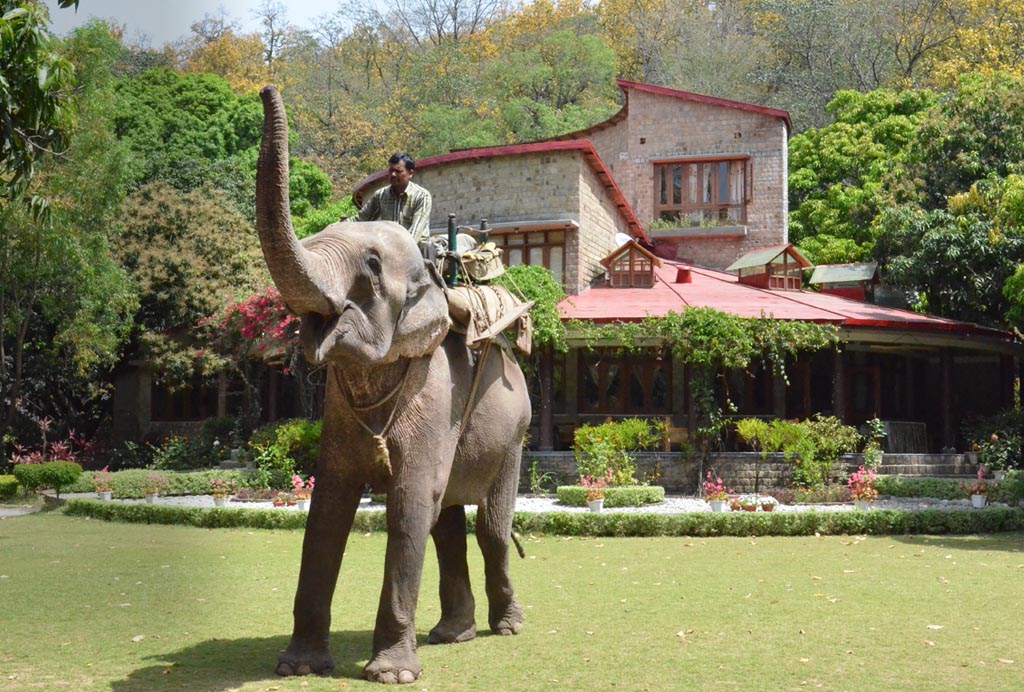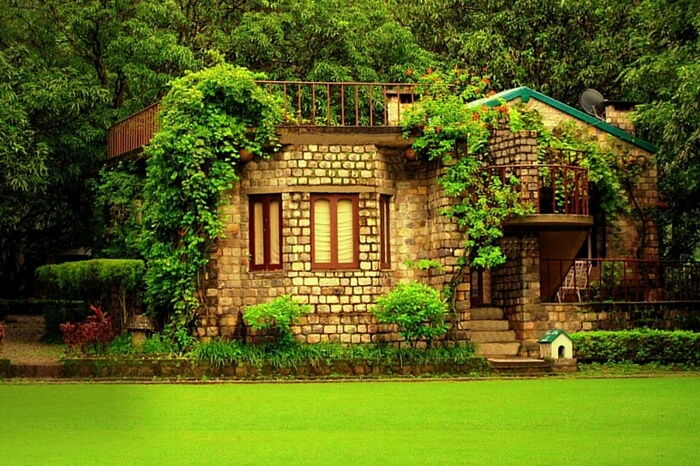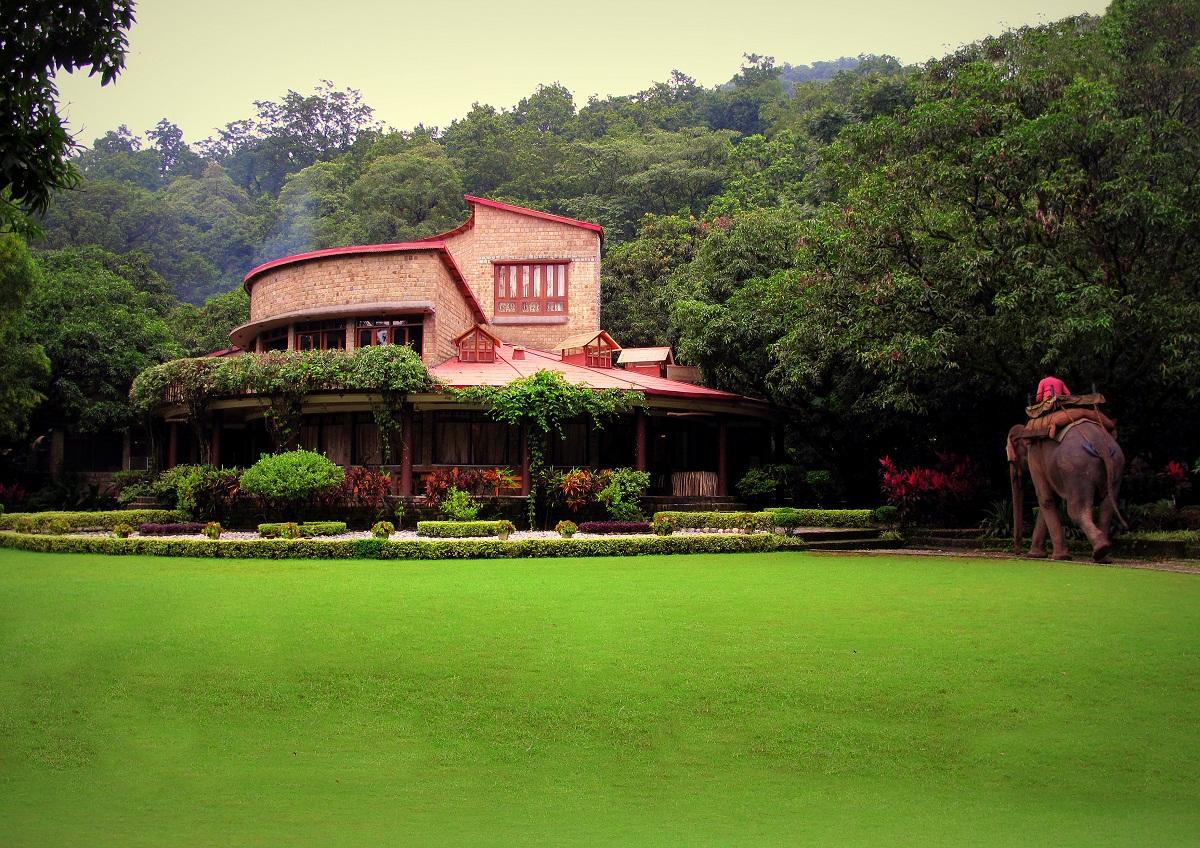 Rooms & Accommodation for Guests
These Resort offers 45-55 Rooms in four different categories which are exquisite in design. The interiors are a delight of natural luxury & style. All rooms are equipped with modern amenities and  fireplace, along with private balconies overlooking the Kosi River. So, you could plan the stay for around 80-100 guests in twin sharing and 100-150 guests on a triple sharing basis in this property.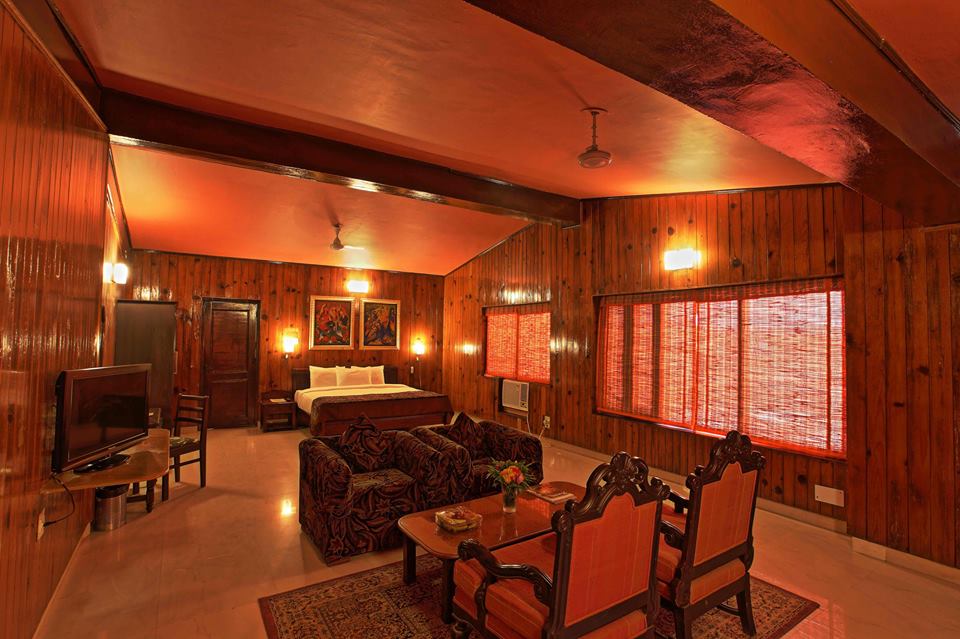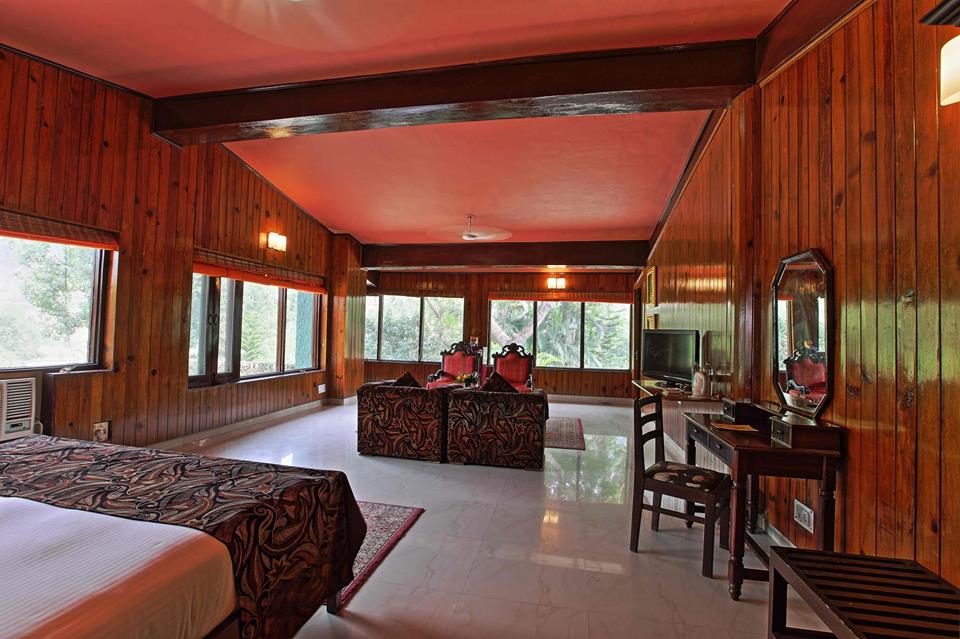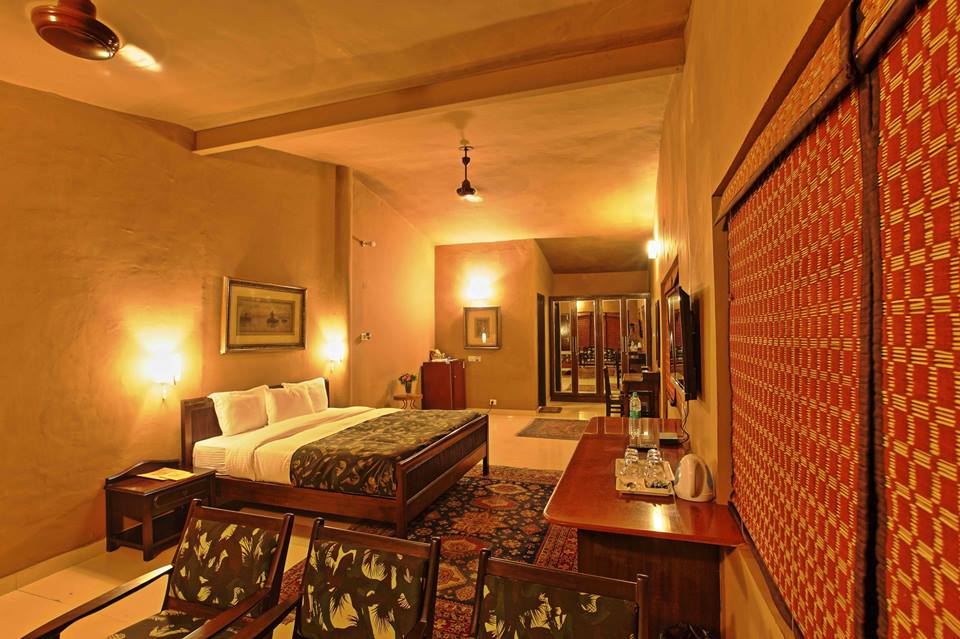 Tips:
You can club a nearby 4* property which is just 500m away, if you are expecting guests above 120.
Rooms are large enough to accommodate 3 Adult in triple sharing or two adults and two children below 12 years with or without extra bed.
Venue
Sprawling green lawn overlooking the Kosi river could be chosen for thrilled setting for Pre-wedding & wedding functions. The lawn has a capacity to host a function with guests counting upto 300+.There is a swimming pool where guests can relax and rejuvenate and plan activities or games in the non ceremonial hours. The banquet hall could be an option for any ceremony which is required to be held indoors.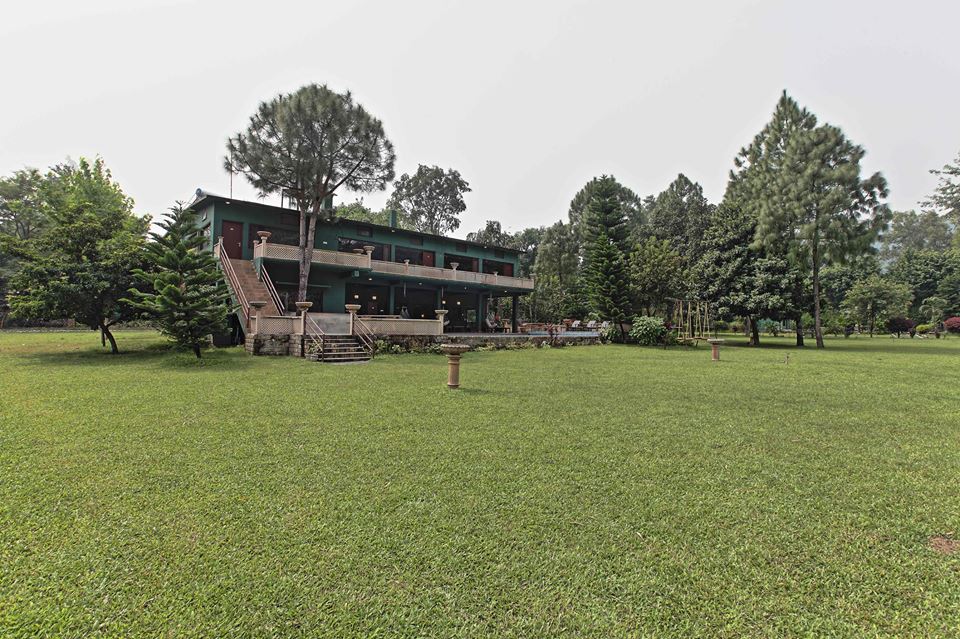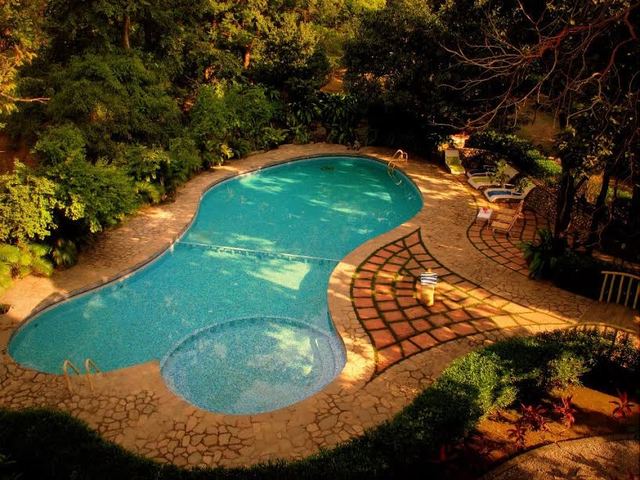 Tips:
All ceremonies should be planned during the day time for perfect experience of the venue and photographs.
The wedding ceremony could be planned during the day time or during sunset with the mandap setting near the Kosi river for perfect backdrop. A cocktail party could be planned during the evening after sunset for finest experience of wilderness.
F&B & Liquor
These Resort offer designed restaurants amongst the wilderness which serves an a-la-carte menu as well as buffet arrangements for breakfast, lunch & dinner consisting of a range of Indian, Continental & Chinese cuisine.  Beverages & Liquor are served during the evening at the open lounge area in the wilderness. One can enjoy smoking Bar-be-que snacks along with Liquor under the starry sky.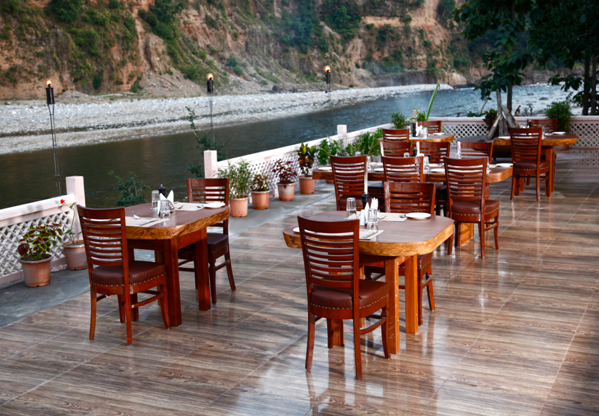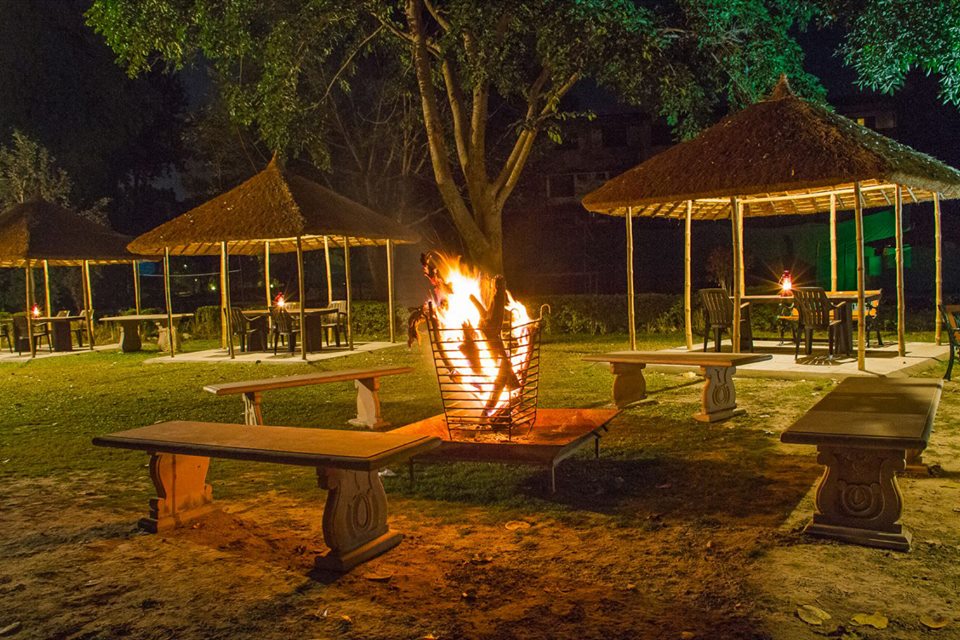 Tips:
Special menu arrangements would be made for pre-wedding & wedding function Breakfast/Lunch/Dinner.
A good is to plan a cocktail cum sangeet dinner party alongside the open lounge area to enjoy the Bar-be-que bonfire.
You can out source liquor for a function, provided you also get a license for the same.
Décor
Destination Wedding in Jim Corbett calls for unique and exquisite décor with organic elements. The sprawling lawn facing the kosi river could be decorated into a set appropriate for the functions. A cocktail bash could be arranged in the open air lounge with bonfire.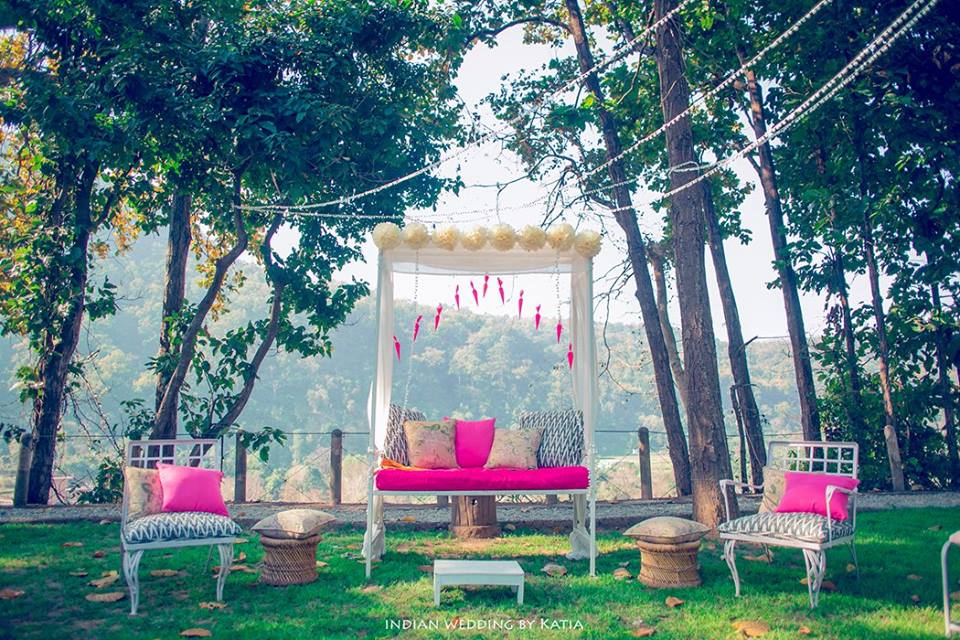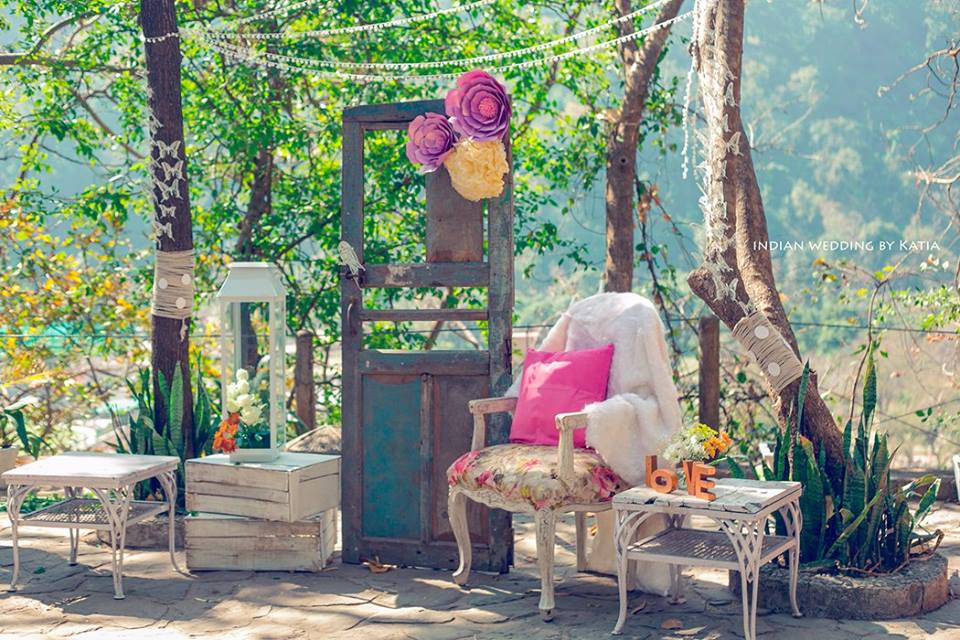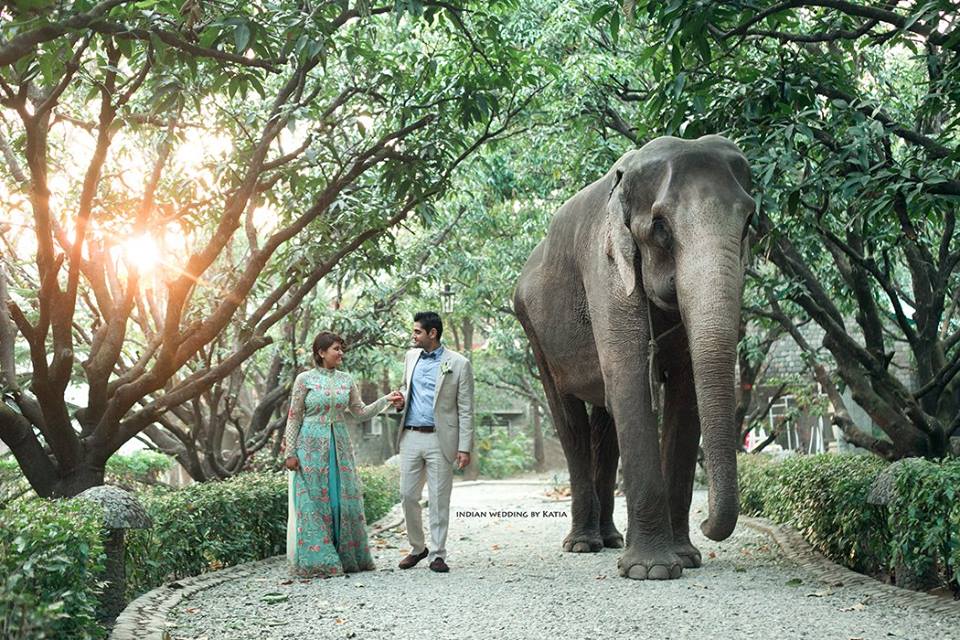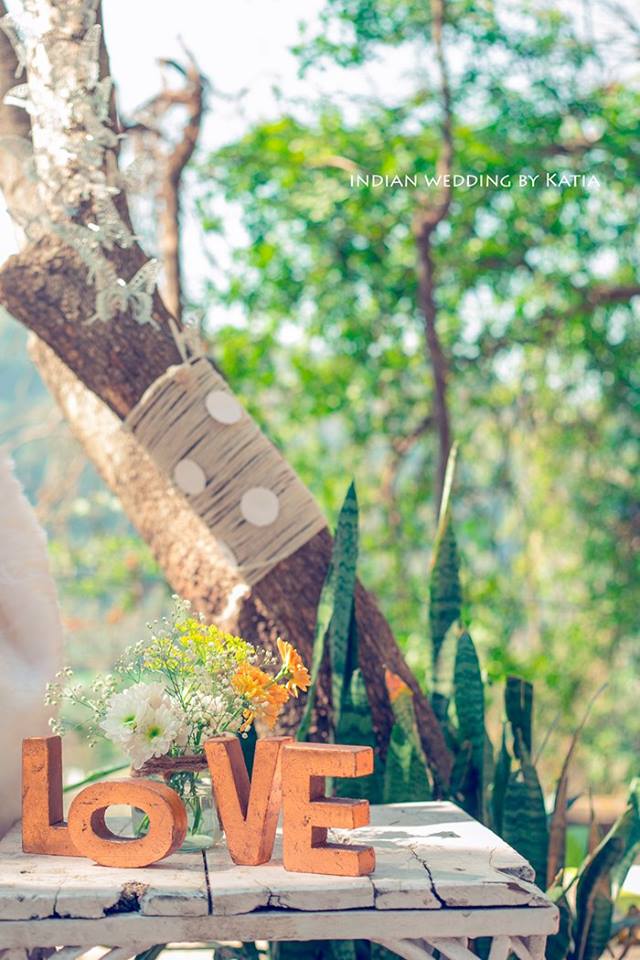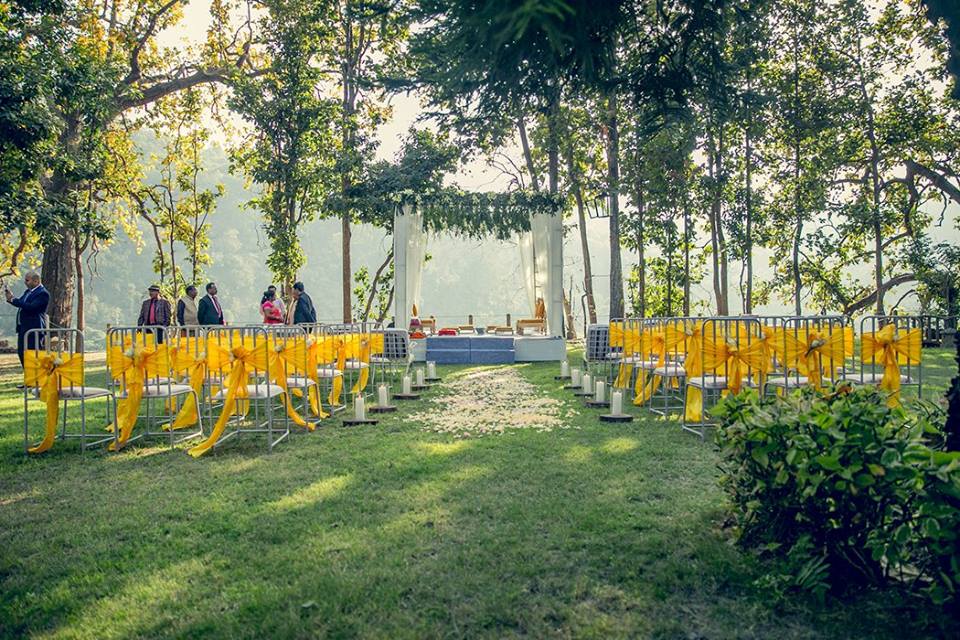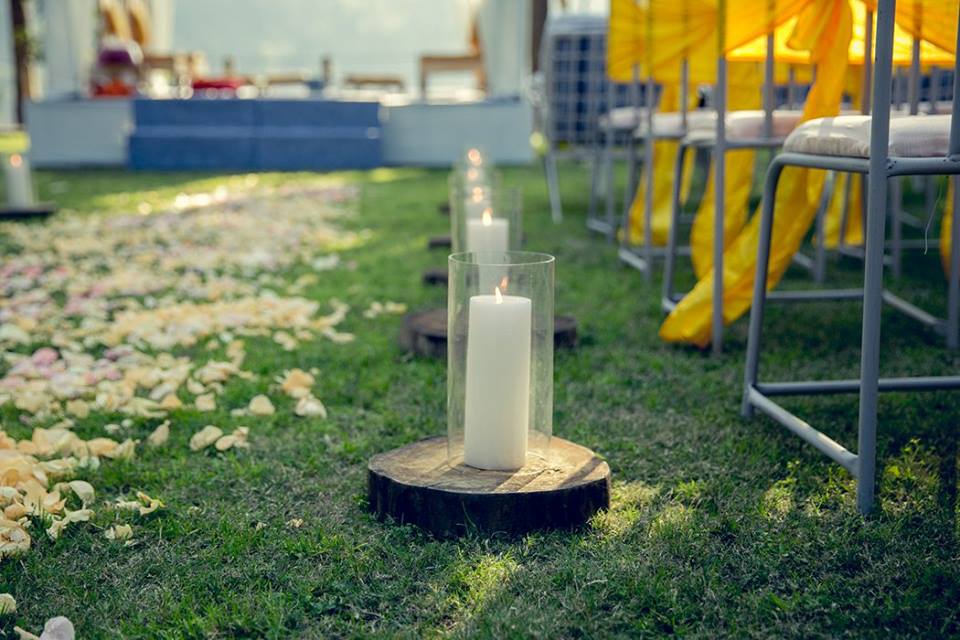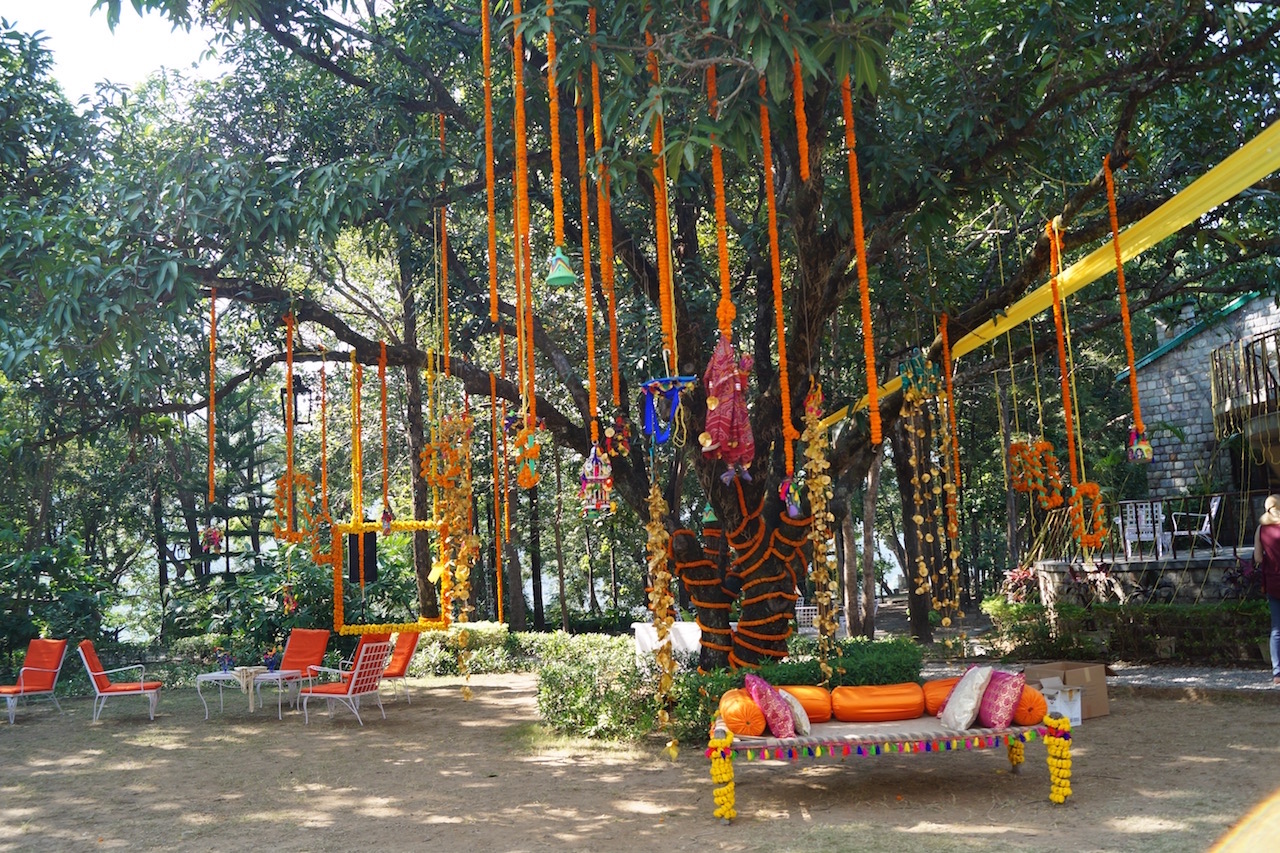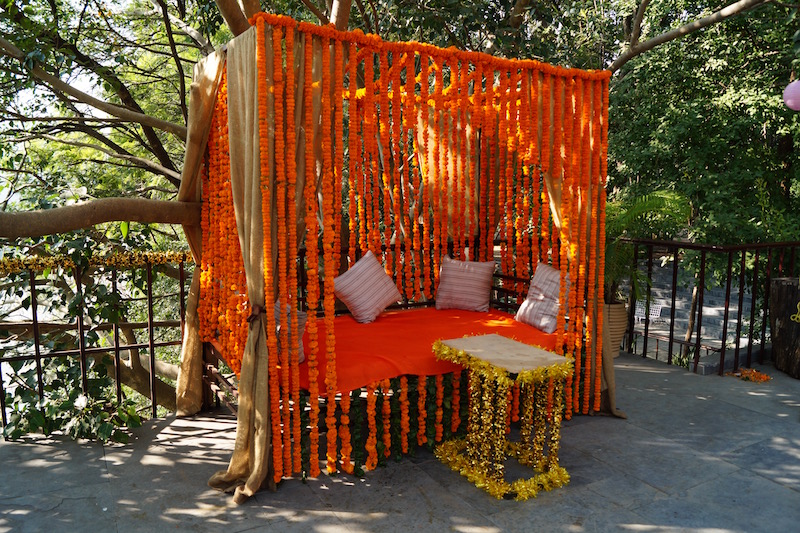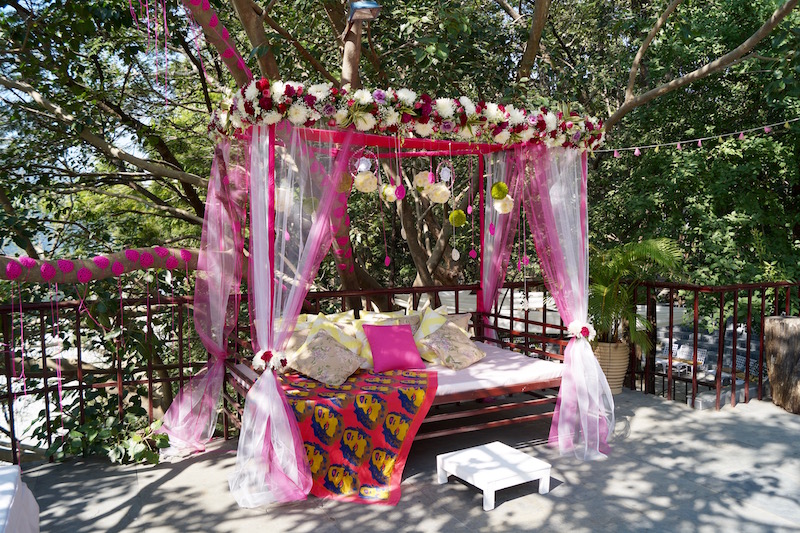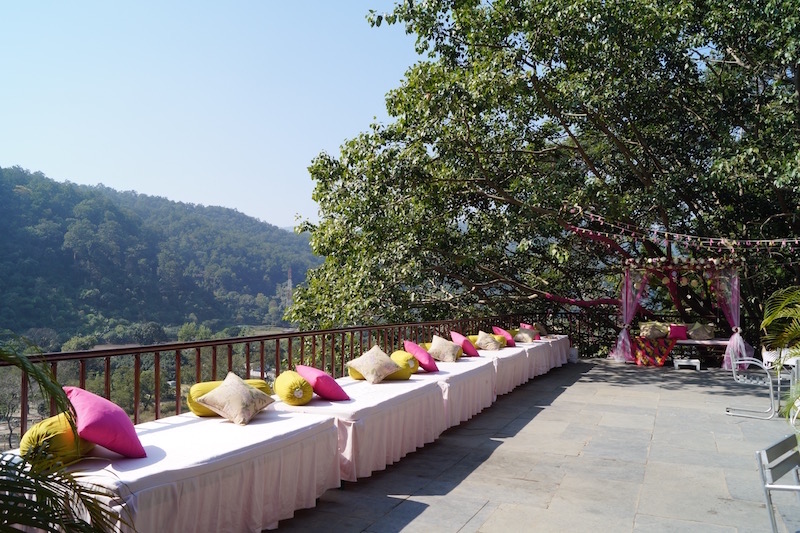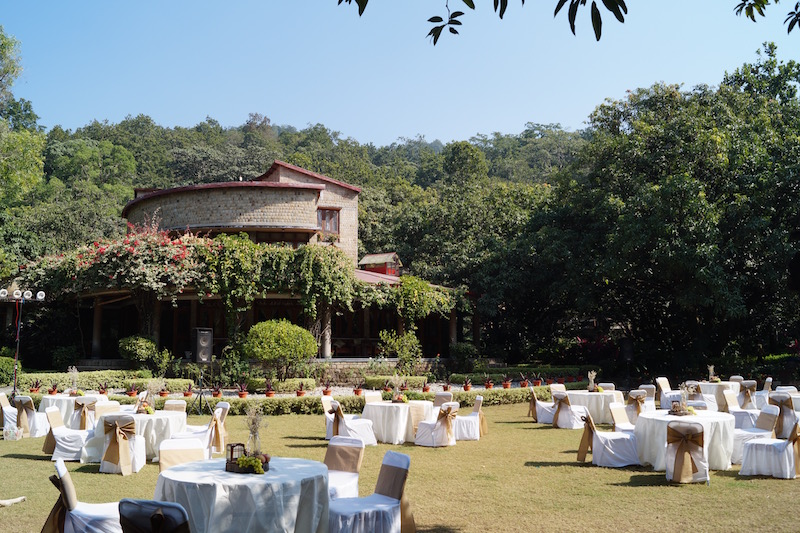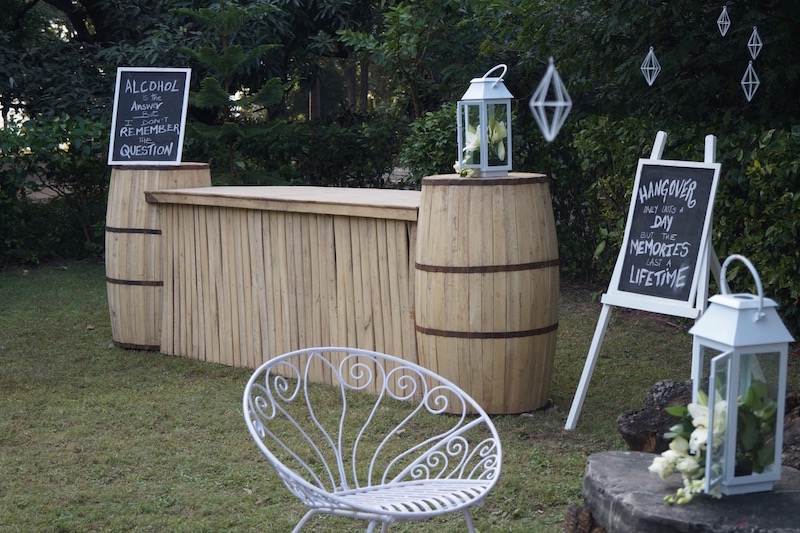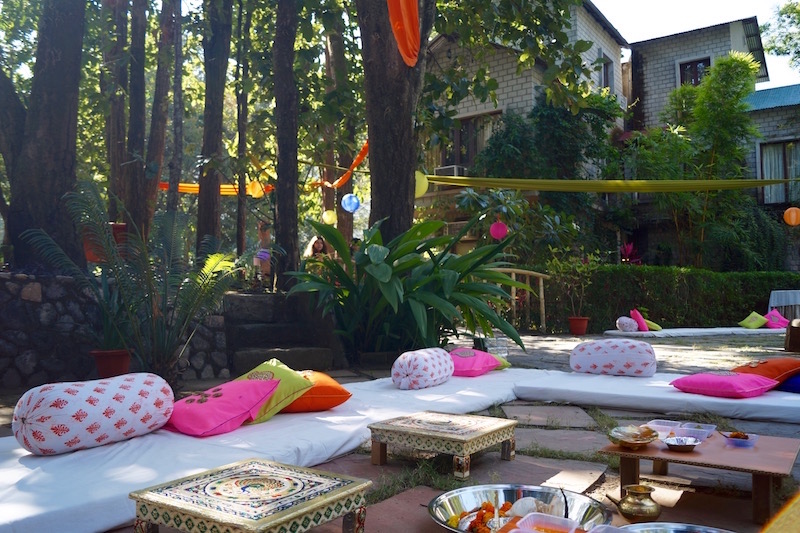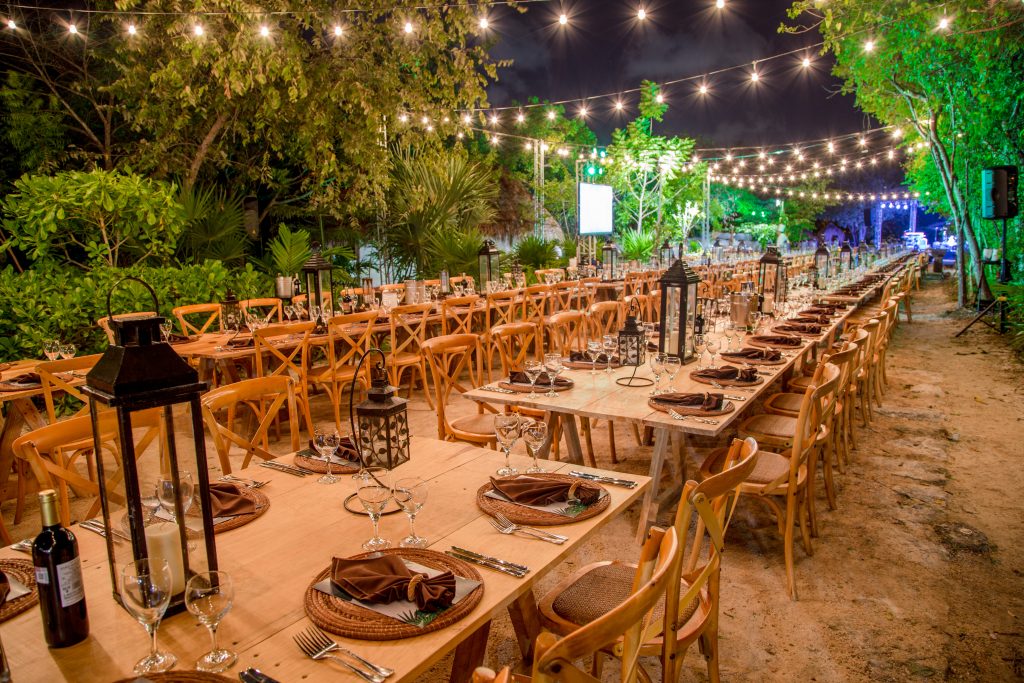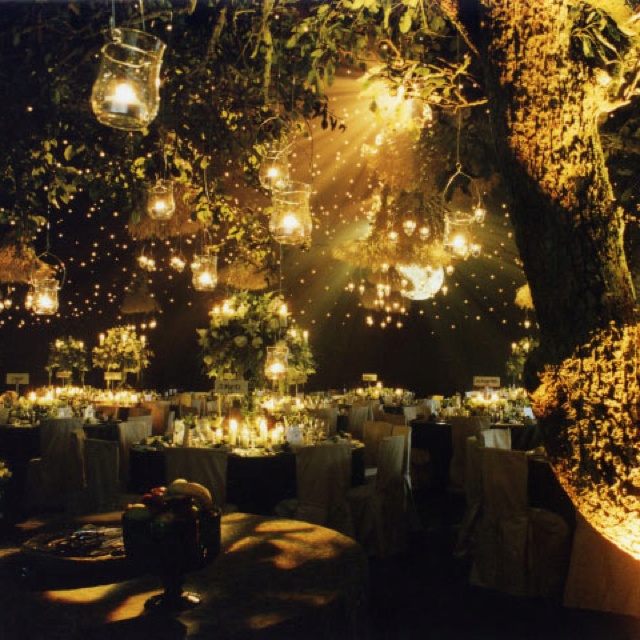 Tips:
Creepers and wild flowers could be sourced for décor of the Wedding Mandap & stage.
Bistro & Mason Jar lights would be appropriate for lighting up the ambience and jazz up the wilderness.
Entertainment
This will depend on the choice of the Bridal Party. However recommendations are to invite live bands for bonfire party  or local folk dancers for entertainment. This could be sourced from nearby villages.  A usual DJ Sangeet  could be arranged, provided a license is purchased.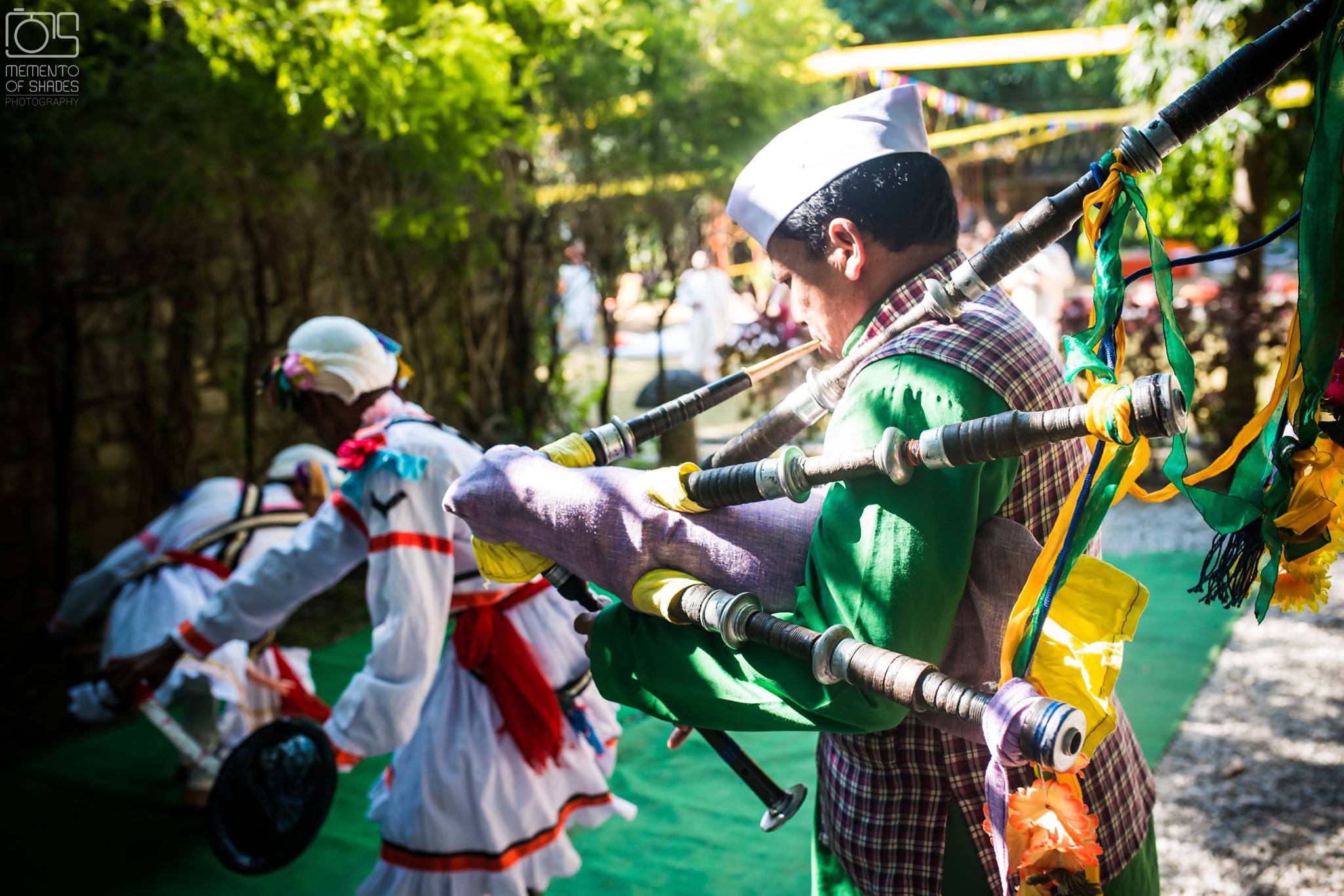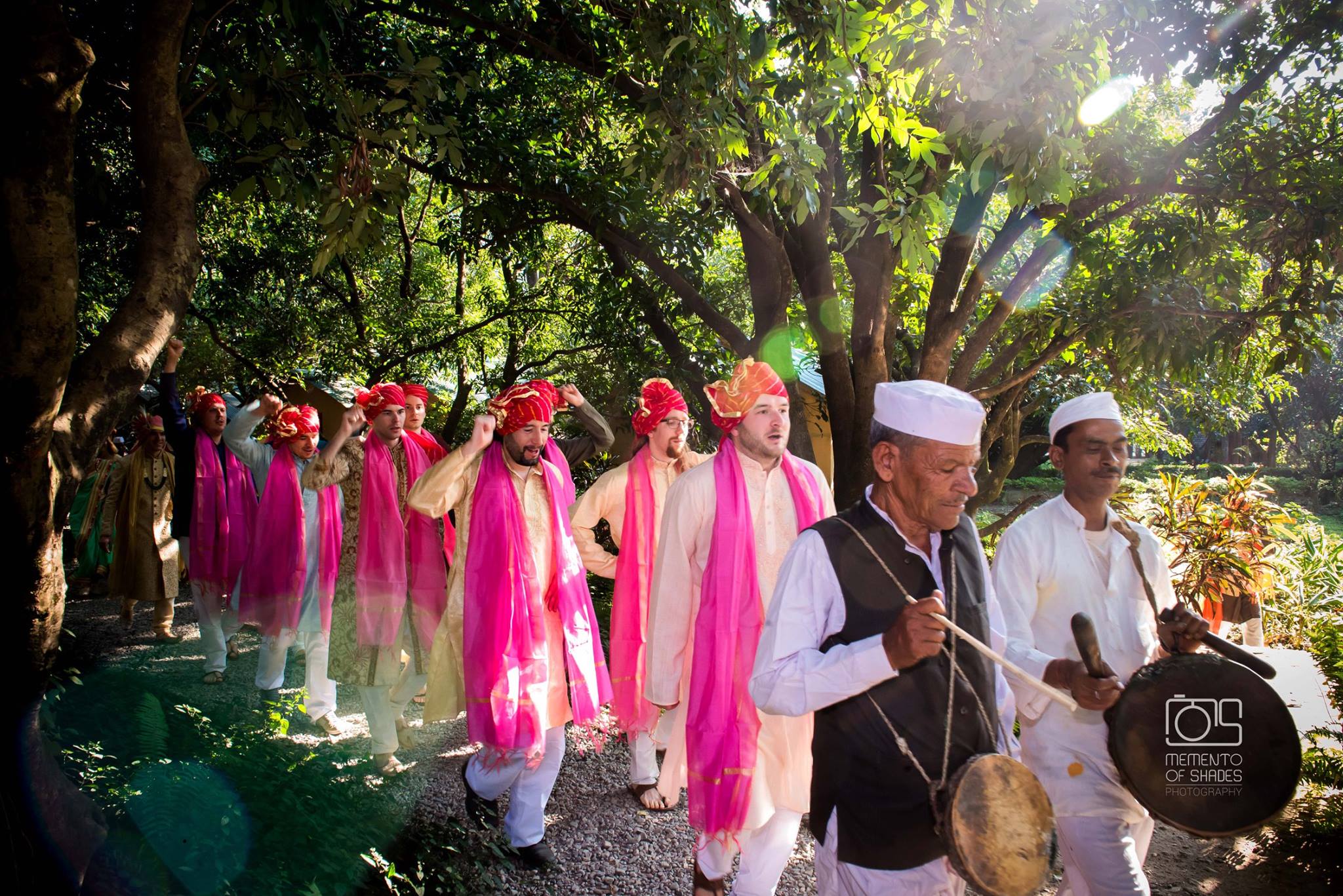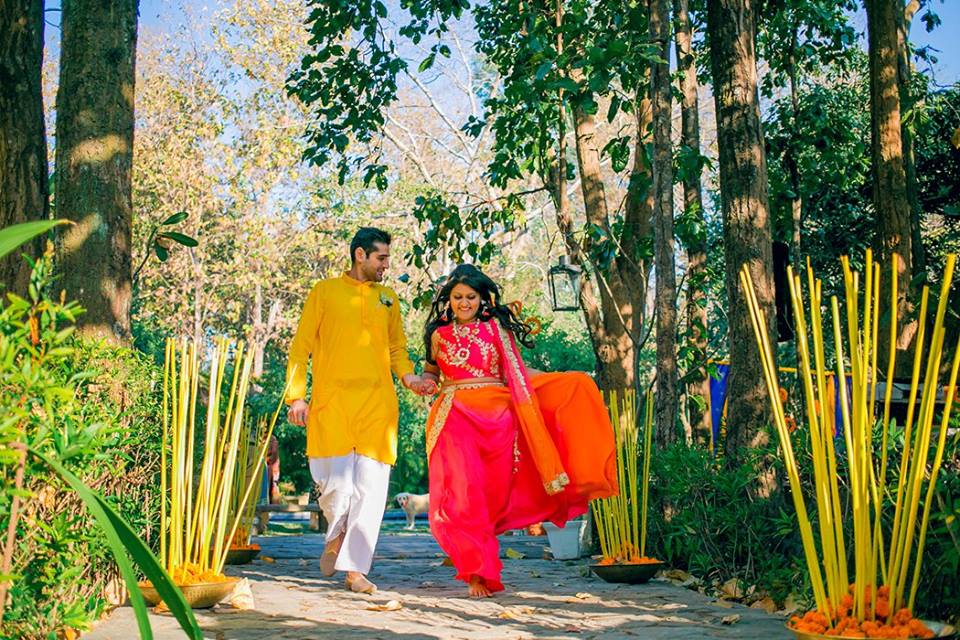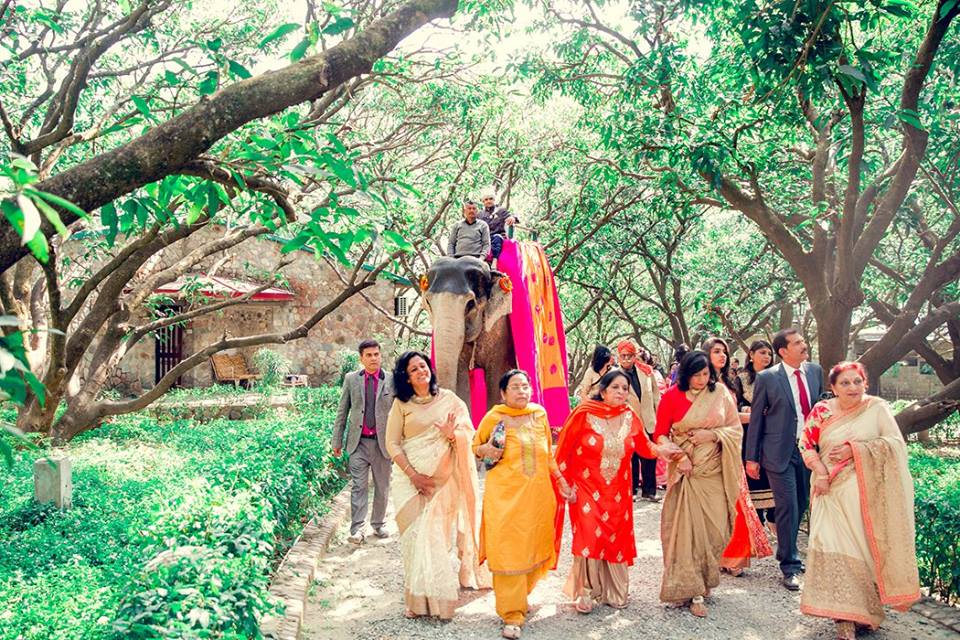 Tips:
Arrange for ice –breaker entertainers like Guitarist, folk singers, fire jugglers ; entertain your guests in a unique way.
Select ice-breaker games those could be played with simple props to engage the guests.
Customized sky lanterns work the best for evening receptions; arrange few with the initials of the bridal couple printed on them.
Transport
This resort is situated at heart of Ramnagar in close proximity to the Jim Corbett National Park. There are several transport options to reach the property, the nearest railway station is Ramnagar at a distance of 15KMs and the nearest airport is Pantnagar situated at a distance of 80KMs , however the best way to reach the resort is to take the roadways. The destination is well connected to the national capital (New Delhi/NCR) , Naintal and other major towns of Uttarakhand.
Tips:
The Resort is a 6hours drive from New Delhi Via NH9
The Resort has ample parking space for private cars, tempo travelers & luxury buses.
Attractions
Children Activities: The resort offers fun arrangements for the children to enjoy their stay. Collection of outdoor games like cricket, football, volleyball, badminton etc is available and could be played in the resort premises. Besides there is a children activity park where they can try and exercise certain activities.
In-House horse stable: The resort maintains a horse stable within its premises; horses can take you for a ride around the property (at an extra cost).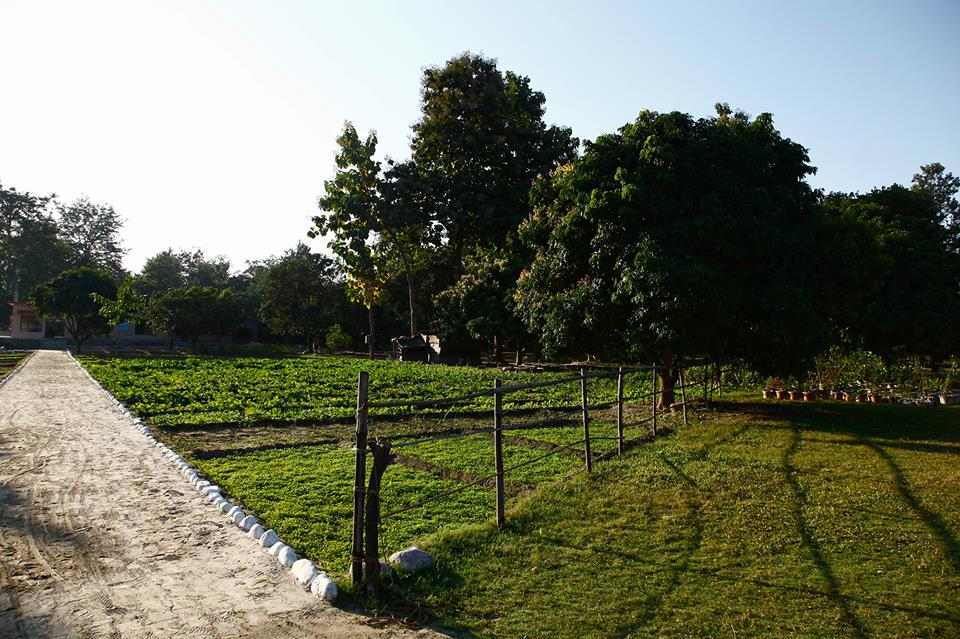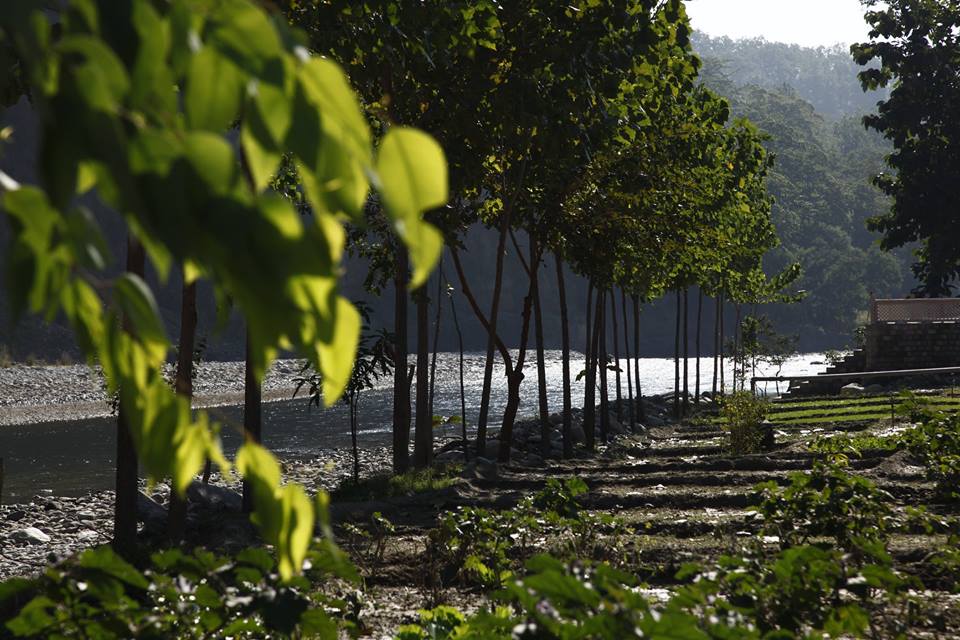 Organic Garden: The resort grows its own veggies and honey in the organic garden maintained in its premises. One could enjoy fun nature walk and gardening along with the gardeners during free time.
Beauty & Spa: Enjoy herbal spa treatments by therapists, individually customized.
Wedding Planning
Packages starting at INR 25Lacs for 2Nights & 3Days for 100 Guests
Inclusives: Accommodation, F&B, Décor, Entertainment. (T&C)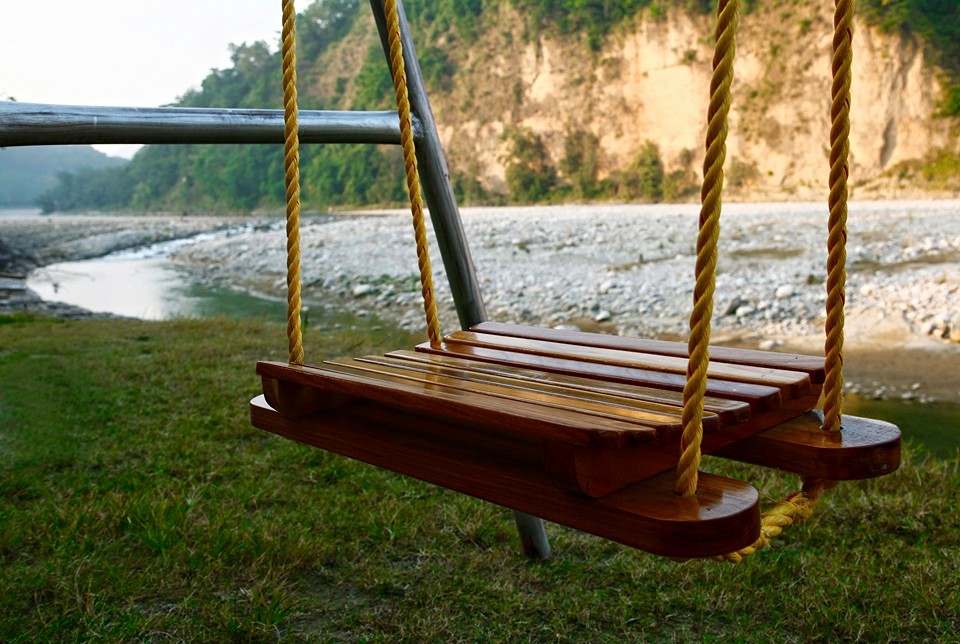 (Please Note: All are real pictures of two – 4* Properties on Display)
Hope the above information would be helpful, if looking out for an exotic venue for Destination Wedding in Jim Corbett. You may invite the Bengal Tigers & wild elephants to your Big Day Feast. Just Kidding!! But the Glow worms would surely grace the occasion. 🙂
Wedding Planner Package including Consultancy @ INR 20000 + Tax (t&c) Read details here
Wish to know more about Destination Wedding in Jim Corbett, drop a line to diwas.celebrations@gmail.com.
Follow us at Diwas Celebrations  for latest updates on Source & Destination Wedding in India.